Documents are the individual files that exist within the Library and are the main drivers of Pepper Flow's workflow capabilities. Pepper Flow assists in the review and approval of these documents by putting them through a job. Each document is a file (ex. PDF, .PNG, .DOC, .MOV) and is assigned its own unique document ID number in Pepper Flow. Documents in the library are represented by a document card that provides general information.
Document ID

Upload a document

View or download documents

View document information

Locate document status
Document ID
Pepper Flow assigns a Document ID to all documents for auditing and tracking purposes. The Document ID is a unique ID number assigned to every document. A document ID is configured based on your organization's requirements.
Document IDs can be found in several areas including the Viewer and document card.
Upload a document
To upload a document into Pepper Flow and have it appear in the Library, you must start a job. You can upload any file type into Pepper Flow; however, only certain file types can be viewed in the Viewer.
View or download document
Click

Library

in the navigation.

Click the document card you'd like to view. The document will open in the Viewer.

To download the document, click the  icon in the bottom toolbar and in the dropdown, select Download file.
View document info
Document info can be found in two places: document cards and the Details screen in the Viewer.
Document card information
Document cards are found in the Library and provide general information about each document.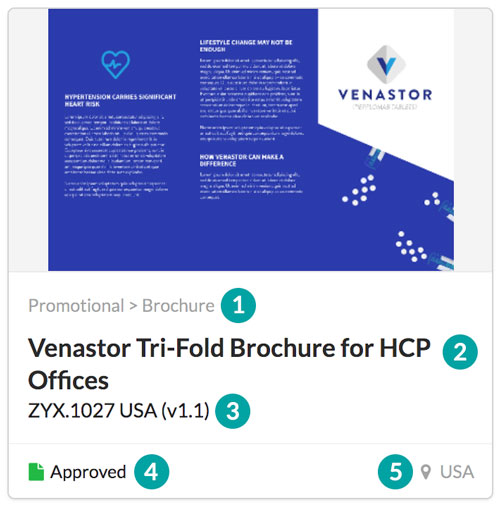 Material type and document type.

Document Name is the name given to a document.

Document ID

is the unique ID number that Pepper Flow automatically assigns to every document.

Document status lets you know if the document is approved for use.

Geography lets you know what country/region/area this document originated.
Document details and properties
The Properties tab in the Details screen of the Viewer provides detailed document info including geography, brand, method of dissemination.
Open the document in the Viewer.

Click

Details

in bottom toolbar.
Locate document status
A document status lets you know if the document is approved and live. Document statuses can appear in several places including the document card, Viewer, History, and Audit Trail. 
| | |
| --- | --- |
| Document status | Status definition |
| Draft | Document has not been approved. |
| Draft (locked for review) | Document is currently in a job for review. |
| Scheduled | Document is approved and is scheduled to be live on the specified go live date. |
| Live | Document is approved and is live. |
| Expired | Document is no longer live. |
| Retired | Document is no longer live because a more recent document version has been approved and is live. |
Related help topics: