Pepper Flow provides a variety of operational insights to identify ways to improve performance.
Access Insights
Depending on your user permissions, you may or may not have access to the reporting capabilities in Pepper Flow.

If your organization uses Dashboards, click the View reports link to access these reports.

Report types
| | |
| --- | --- |
| Report type | Description |
| | View each individual job, including the document name, job type, content owner, job start and completed dates, and the final vote status of the job. |
| | View all properties for documents for which you have permission to see. Select the properties you want to see, such as product or country, before generating your report. |
| | View documents approaching their expiration during a specified date range. The report includes the document name and ID, content owner, current document status, and when the document is scheduled to expire. |
| | View the number of jobs started and completed by type, as well as time to approval, number of circulations, and jobs not completed by their target approval date. |
| | View each reviewer's workload and their voting tendencies. The report includes each user separated by role, number of approvals they've been assigned and completed, their average review time, and number of times they've voted Approve, Amend & Resubmit, Amend & Return, Amend & Progress, and Reject. |
Run a report
Click "

Insights"

in the navigation.

Select the report you'd like to run and

click "

Continue".

Specify the appropriate report criteria and click "

Continue".

Once the report is generated, you can do a few things:
To download the report, click "Download CSV".

To run the same report with different criteria, click "

Edit details".

To run a different report, click "

Run new report"

.

Note that all dates are based on you browser time zone.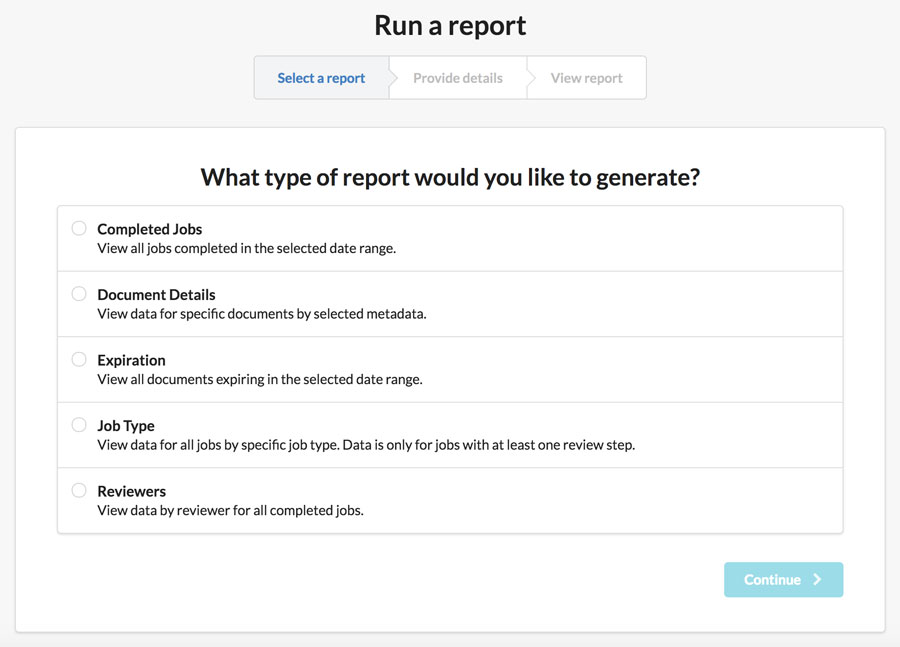 Related help topics