All content that is available to you appears in the Library.
Content cards
Each content card displays the following information: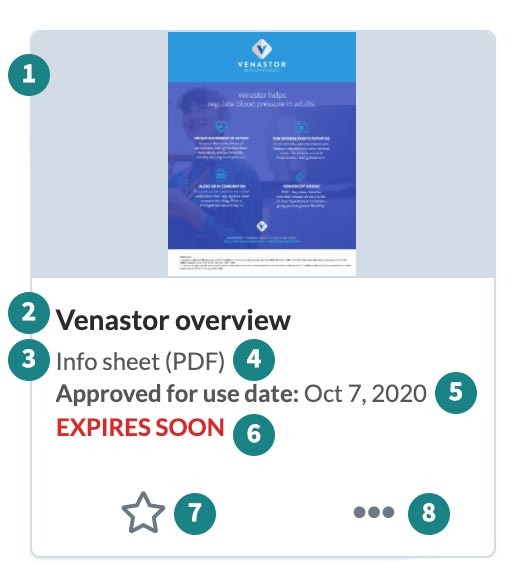 Thumbnail of the content's first page
Content name
Content type (company-specific)
File type
The date on which the content was approved for use in Pepper Flow
Expires soon: This label appears on content that will expire within 30 days.
Favorite: Favorite content so you can find it later using the "Favorites" filter.
Select a content card to see the content in the Viewer.
Select the

list view icon to see content in list view.
Search
Use search to find content in the Library.
In the Library, click or tap into the search bar.
Type in the content name or keywords.
Pepper Folio will suggest search terms as you type, along with up to five relevant pieces of content. Press enter or click "Show all results" to see all search results in the Library, sorted by relevance.
Filter
Use filters to find content in the Library.
In the Library, click "Filters" in the top right.
Click the categories relevant to your search and check the filters you would like applied.

Click "Apply" at the bottom and view the results.
When you're done, click "Clear filters," or remove filters one by one by clicking the X icons.