The Viewer provides annotation tools in the top toolbar. Use these tools to draw and comment on your document.
Annotation tools

Place an annotation anywhere on the document

Draw a box around a section of content

Draw an arrow to a section of content
Highlight a selection of text

Strikethrough a selection of text
Note: Certain document formats, such as .jpg files and other images, do not allow highlight or strikethrough of text.
Add a comment on the document
Open the document in the Viewer.

Select an annotation tool.

Mark the section you'd like to associate with a comment.


Type in your comment. When complete, click "

Add annotation."

Repeat steps 1-4 as many times as needed.
Add a general annotation
Add a general annotation when when you to provide general feedback about a document, or when reviewing a document that is not a supported file type.
In the Annotations panel, click "Add annotations" and select "Add general annotation."

In the annotation box that displays, enter your comment.
When you're done, click "Add annotation."
The comment will display in the Annotations panel alongside your other annotations. Unlike annotations with an associated annotation dot, general annotations have no small white triangle on the left side when active.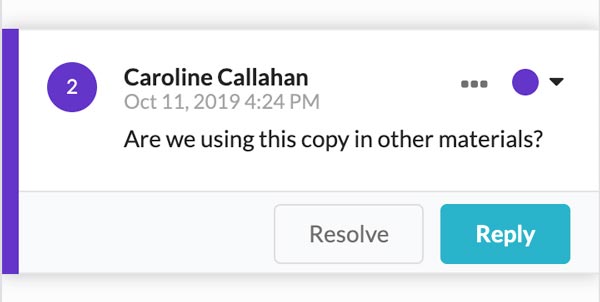 Reply to an annotation
Click an annotation in the Annotations panel or an annotation dot.

Click "Reply."
In the text area that displays, enter your comment.
When you're done, click "Leave Reply."
Change comment color
When adding or editing a comment, click on the dot in the top right corner.

Select the color you'd like.
Click "Add annotation."
Your comment color will default to the last color used.
Note: You can only change colors for non-supporting document annotations. Annotations with a supporting document will always appear in white with a dark blue outline and text.
Mention another user in an annotation
When adding or editing an annotation, click into the text area.
Type in the @ symbol and the first few letters of a user's name.
A user dropdown will appear below the text area. Only users with permission to see the document will display.

Select a user by clicking their name or pressing the tab key.
Click "Add annotation."
By default, users will get an in-app (

) and email notification each time they are mentioned in a comment. However, users can turn off these notifications in the Notification Preferences section of their user profile.
Add a supporting document
See Add a supporting document to a promotional document.
Preview mode
To hide annotations on a document, click the "Preview" toggle in the Viewer's top toolbar. You can also use keyboard shortcuts, ctrl ; (PC) or ⌘ ; (Mac).
Click the

double arrow icon in the top right to collapse the Annotations panel.

Related help topics