Smart Reference suggests references for promotional documents based on previous usage. When selecting Smart Reference, Pepper Flow will compare the text in your new document with previously linked claims and identify similar phrases. If matches are found, Pepper Flow will suggest references that you can choose to accept or decline.
Before you start
Smart Reference relies on previously highlighted claims in your promotional documents to make suggestions. Therefore, for the tool to work, you and your team need to start highlighting text and adding references to your supporting document annotations.
Run Smart Reference
Click the "

Supporting Documents"

tab and select "

Smart Reference." Pepper Flow will compare the text in your new document with all previously linked reference claims and identify similar phrases.




Pepper Flow will display a dialog box stating "

We found XX reference suggestions." C

lick "

View suggestions."



Review each suggested reference or reference point and select one of the following options:




a) "

Reject." The annotation will not be added to the document.
b) "Accept." Pepper Flow will automatically add the selected annotation to the document.




Continue to accept or reject individual reference suggestions. Alternatively, you can select "

Accept all"

or "

I'm done" at the bottom of the viewer.



Why didn't Smart Reference have any suggested references?
When running Smart Reference, you may not get any results.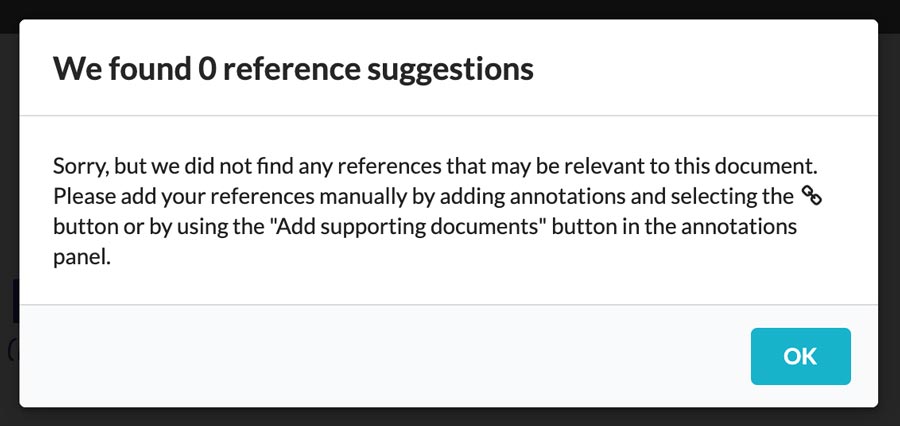 There are a few reasons this could have occurred:
You haven't used the highlight tool to link text in promotional documents to supporting documents. The Smart Reference tool will only provide suggestions based on previous linked references that were created using the highlight tool.

You haven't added references to the Library. The Smart Reference tool only uses documents added from the Library, not uploads or URLs.

The Smart Reference tool didn't find any matches. The algorithm used to determine suggested references takes many things into account, including the number of times a reference has been used, the number of words highlighted, and the order of the words.

File type. Flow will only suggest references for text that it can identify. If text is embedded in an image or graphic, Flow will not identify that text and will not provide suggested references.
Related help topics