Pepper Flow Digital Review uses many of the same elements you see in Pepper Flow. However, they're optimized for the web review experience.
For a web page with no job history, you'll see the option to select a job and fill in a few details. Once a job is in progress, the extension displays the following: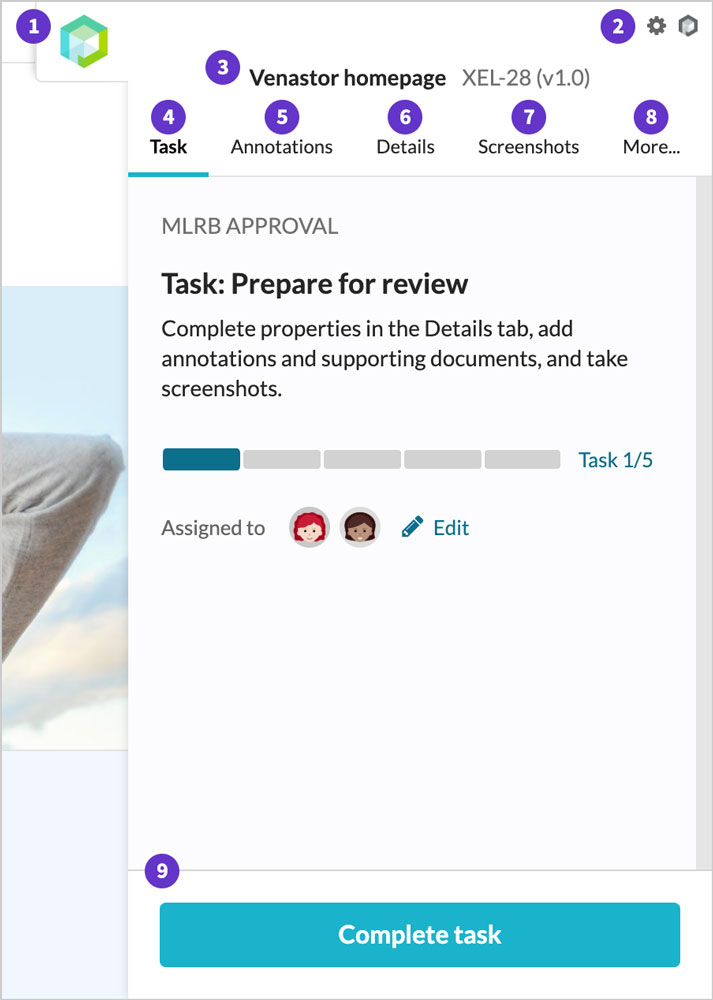 Pepper logo mark: Click this to show or hide the extension side panel.

Utility navigation

Cog icon: Click here to view your account information and company name, or to log out.

Gray Pepper logo mark: A link to your Pepper Flow library.

Document name and ID: When you have a long document name, hover over this to see all information.

Task tab: Complete tasks, view task progress and edit assignees.
Annotations tab: View and add annotations, substantiation, and supporting material.
Details tab: View and edit web page metadata. View the Audit Trail.
Screenshots tab: Take screenshots of your web page. View and delete existing screenshots.
More… tab: Download screenshots and job summary reports. View your job in the Pepper Flow Viewer. Cancel a job and start new jobs.

Primary actions: Usually, the primary actions for a tab are available at the bottom of the side panel. Primary actions include activities such as completing job preparation and casting your vote.
Related topics: