When you're unavailable for any amount of time, you can set a Delegate to perform tasks on your behalf. Assigning a Delegate will allow the identified user to access Flow on your behalf for a set amount of time. Your Delegate will be able to vote and comment on jobs that you have access to, start jobs, and generally perform any action that you have permissions to do for the entire time frame selected.
Setting your Delegate

Ending your Delegation

Extending your Delegation
Setting your Delegate
Open your Profile
Select the Delegation tab

Click the

New delegation period

button

In the dialog box, select the date range the Delegation will cover and the user you'd like to delegate your tasks to

Click

Save changes

*Your delegate will receive an email notification when their delegation begins. If your delegation start date is in the future (doesn't start immediately), your delegate will receive an additional email notifying them of the future delegation responsibility.
**You can set multiple delegation periods and assign them to different users, but the set dates can not overlap.
Ending your Delegation
When you're selected end date is reached, your set delegation will automatically end. At that time your delegate will no longer be able to perform tasks on your behalf. If you'd like to end your delegation early, you can do so by:
Clicking the

End delegation period

button in the blue bar at the top of your screen during the delegation period

OR
Opening your Profile
Select the Delegation tab

Click

Cancel delegation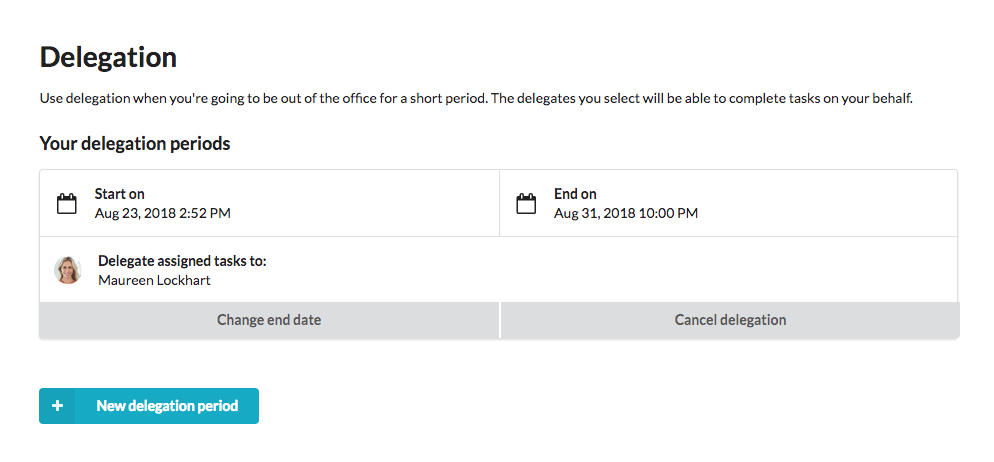 Extending your Delegation
If you need to extend the date range for an active or upcoming delegation, you can do so by:
Opening your Profile
Select the Delegation tab

Click

Change end date

on the delegation you'd like to extend

Select a new date and click

Save changes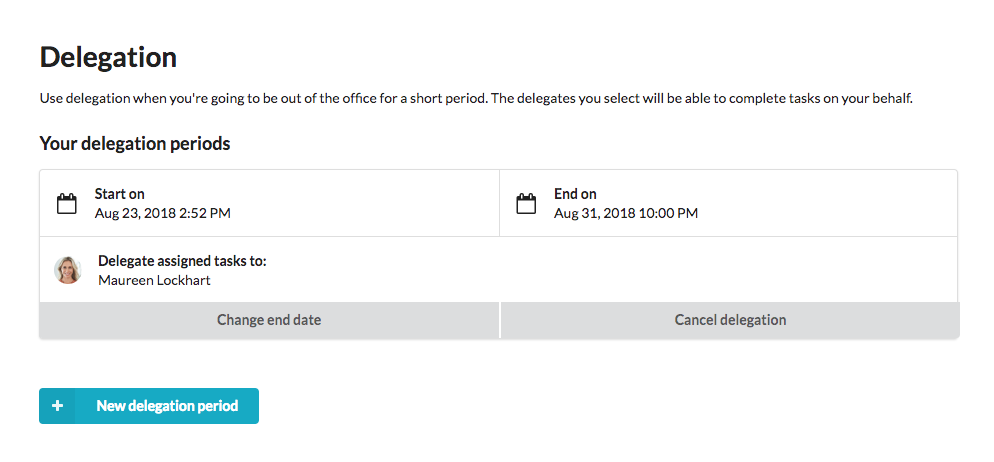 Related help topics: